SWAT team standoff ends with tear gas in home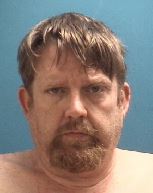 Tear gas brought an end to a three and a half hour standoff between a domestic battery suspect and the Columbus Police SWAT team Wednesday morning.
According to Columbus police reports, police were called to the 5000 block of Sheridan Drive at about 8:30 a.m. in the morning to investigate a domestic violence report. Police tried to talk to a man in the home, but he refused to communicate with officers.
After police learned the man had access to weapons in the home, the Columbus Police SWAT team was brought to the scene. Crisis negotiators with the police department continued to try to talk with the man, but he refused.
After tear gas was released in the home, 47-year-old Brandon L. Horning of Columbus surrendered to officers without incident at just before noon.
After being checked out at Columbus Regional Hospital, Horning was arrested on preliminary charges of domestic battery and strangulation.
Photo courtesy of Columbus Police Department.