Suspect found with items stolen from vehicles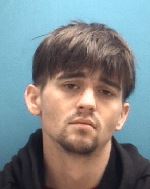 Police arrested a Columbus man after he was allegedly found walking down 25th Street with property he had stolen from a vehicle.
According to reports from Columbus police, officers had been called to the 2400 block of Charleston Place at about 9 Tuesday morning after receiving complaints of items stolen from vehicles.
One of the theft victims noticed a man carrying the stolen property in the 3400 block of 25th Street shortly afterwards. Police stopped the man, identified as 23-year-old James J. Burns III of Columbus and recovered the victim's missing property, along with a bag containing items stolen from a separate vehicle.
Burns is facing a preliminary charge of theft from a motor vehicle.
Police say that you can help reduce property crime by removing valuable items from your vehicle and by locking your vehicle doors.