Police looking for leads in racist vandalism spree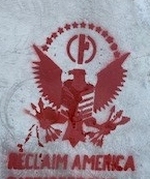 Columbus police are asking for your help finding a vandalism suspect.
Authorities have released a photo of a suspect in a weekend spree of spray painting that left the logo of a white supremacist group on downtown Columbus buildings.
The Republic newspaper reports that spray-painted stencils with a logo for a Texas white supremacist group were found on buildings Saturday including First Presbyterian Church, the Cummins corporate office building, in Friendship Alley between Fourth and Fifth streets downtown and on the Jackson Street parking garage.
Authorities believe there is a single suspect who acted alone. Police describe the man as a white male, wearing eye glasses, a gray sweatshirt, blue jeans, and a black backpack.
Columbus Mayor Jim Lienhoop released a statement saying that the symbols in no way represent our community and that Columbus celebrates diversity.
The mayor said, in part thatIn Columbus we welcome people of all colors, nationalities and ethnicities, who bring with them a rich culture and diversity that benefits us all. These contributions have not only enriched our community, but have allowed our community to flourish economically…"
If you have any information on the suspects identity, you can call the Columbus Police Department at 812-376-2600. Tips and information can be submitted anonymously.