Passenger arrested after failed vehicle theft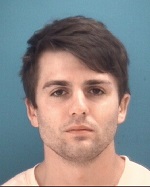 An attempted theft of a vehicle at the Interstate 65 rest stop in Bartholomew County led to the arrest of the vehicle's passenger for an outstanding warrant.
According to the Bartholomew County sheriff's department, deputies were called to the northbound rest stop at about 9:52 p.m. Monday night after a car was stolen. The driver and a passenger had left the vehicle with the keys inside but as they came out of the rest stop, they saw a man taking off in the vehicle.
The driver then crashed the stolen vehicle into a curb and ran away, taking personal items that had been in the car, according to deputies.
As deputies talked to the owner and passenger, 21-year-old Cade Bean of Avilla, Indiana, they found that Bean was wanted on an outstanding warrant from another county. And they also found that Bean had a no-contact order protecting the driver of the vehicle from him.
He was arrested on a preliminary charge of invasion of privacy, as well as for the outstanding warrant.
Photo courtesy of Bartholomew County Sheriff's Department.