One-room schoolhouse destroyed in early morning blaze
Editor's Note: This story has been updated.
A one-room schoolhouse from the 1890s burned down early Monday morning in eastern Bartholomew County.
Chief Dave Thompson with the Columbus Township Fire and Rescue Department said firefighters were called out at about 2:15 yesterday morning to aid Clay Township volunteers in fighting the blaze at County Roads 500E and 250N.
But when firefighters arrived on the scene they found that the building had been burning for some time and was fully engulfed in flames. Firefighters were on scene for about four hours extinguishing the burning brick building.
Thompson said the owners Anthony and Zane Harden have already made arrangements to have the ruins demolished later this week. Although largely abandoned, Thompson said the owners had installed a new roof recently to protect the building.
Thompson said there is no indication yet of what caused the fire. He said there were no utilities hooked up to the building, and nothing stored inside. He said it seemed suspicious.
Other volunteer fire departments assisting at the scene included Hope, Clifford, and Elizabethtown Thompson said.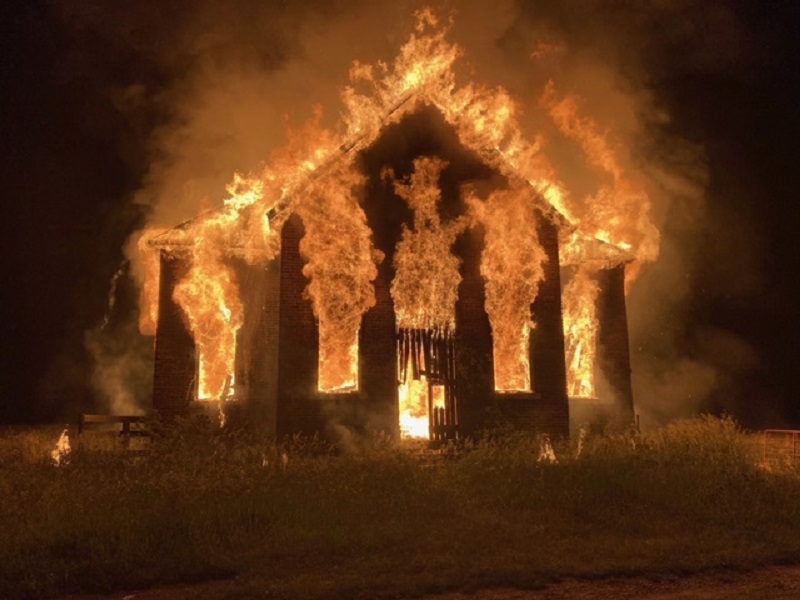 Photo courtesy of Bartholomew County Sheriff's Department.