Decatur County police chase ends with Columbus arrest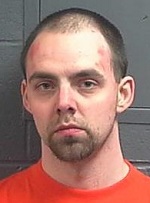 A Sunday police chase that started in Decatur County ended up with an arrest in Columbus.
The Decatur County Sheriff's Department is reporting that they were searching for a stolen vehicle in the western side of the county Sunday afternoon, when  a deputy spotted the vehicle near State Road 3 and County Road 500S. The driver, later identified as 28-year-old Clay Mason of Indianapolis, refused to pull over for police, instead crashing into the deputy's vehicle.
Deputies and Greensburg police chased him into Columbus and stopped him with the assistance of Columbus police and Bartholomew County deputies. Mason is facing preliminary charges of aggravated battery according to the Decatur County Jail, but he is also potentially facing multiple felony charges in both Decatur and Bartholomew counties.