Couple arrested after warrant service uncovers drugs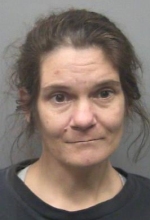 An attempt to serve a warrant on a woman led to the arrest of both the woman and her husband on drug related charges in Jennings County.
The Jennings County Sheriff's Department is reporting that they went to a home near Paris Crossing at about 5:30 to serve a felony arrest warrant on 40-year-old Jennifer Hardesty. But when they arrived, police discovered 19 grams of methamphetamine, a controlled substance, drug paraphernalia and marijuana.
Jennifer Hardesty and 40-year-old Wilbur Hardesty were arrested on charges including possession of more than 10 grams of methamphetamine, maintaininga common nuisance and possession of a controlled substance, marijuana and drug paraphernalia.