Columbus police commended for lifesaving efforts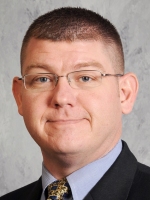 Three Columbus police officers are being commended for their work to save lives in June.
Chief Michael Richardson presented letters of commendation recently to Sgt. Richie Howell and to officers Frank Dickman and Kelly Holley.
Howell was off duty and at home on June 14th when he found out that a neighbor was having a medical emergency. Howell went to the home and provided lifesaving measures until Columbus firefighters and medics arrived.
Dickman and Holley were called to the 600 block of Maple Street on June 19th and found two people and a dog unconscious in a home where a generator was running. Recognizing that the victims were likely overcome by carbon monoxide, they opened windows and then carried the victims and their dog to safety. All three survived.
Richardson praised the officers for their quick-thinking and life-saving actions, saying that "It makes me proud to know that regardless if they are on or off duty, these CPD officers responded with the professionalism that our community can be proud of."