Wanted Jennings County man arrested after chase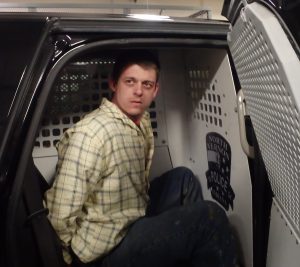 A Monday afternoon police chase in Jennings County led to the arrest of a Scipio man. Sgt. Andrew Richmond, spokesman for the North Vernon Police Department, says that just before 4:30 p.m., officers responded to Harms Street after getting a report that a man was riding a dirt bike at a high rate of speed.
Sgt. Richmond says that he and Officer Shane Trepanier located the rider, 31-year-old Brett E. Matern. He says that Matern, who was wanted on three warrants, then fled after officers attempted to pull him over. Richmond says that the pursuit lasted almost half a mile and reached speeds of 60 mph in a residential neighborhood.
Matern reportedly abandoned the dirt bike in the back yard of an apartment in the 200 block of Harms Street and fled into an apartment. Richmond and Trepanier secured the apartment and, after other officers arrived, were able to direct Matern out of hiding. Authorities say that Matern resisted the officers and made several threats of physical violence against them.
Matern was booked in the Jennings County Jail on the following preliminary charges:
1. Resisting Law Enforcement by Fleeing in a Vehicle – Level 6 felony
2. Intimidation of a police officer – Level 6 felony
3. Resisting Law Enforcement by Fleeing or Fighting – Class A misdemeanor
4. Disorderly Conduct – Class B misdemeanor
Richmond notes that Matern was wanted on three outstanding warrants:
1. Risk of flight on an original charge Intimidation – Level 6 felony
2. Failure to Appear on an original charge Possession of Methamphetamine and Possession of Paraphernalia – Level 6 felony
3. Intimidation – Level 6 felony.
Sgt. Richmond adds that Matern is currently being held without bond. Additional charges could be forthcoming.